Welcome to MyAstrology.net!

MyAstrology.net offers a variety of data, forecasts, and other resources for astrologers and those who are interested in astrology.
Today's Lunar Aspects
April 06, 2020
Today is Productive

Current time: 6:39 pm GMT
Times are GMT
4:37am - Moon opposite Neptune:
A pie-in-the-sky dream sounds extremely appealing, not to mention quite feasible. But wait a few days before committing to it -- you might think differently then.

9:48am - Moon opposite Mercury:
Logic and feelings are completely at odds, leaving you in limbo. Recognize that you simply may not be able to reconcile every inner conflict.

1:14pm - Moon trine Pluto:
Focus emotions and desires on a specific goal and you will get results. Avoid scattering your energies too thin.

1:28pm - Moon trine Jupiter:
Community and social activities loom large, perhaps putting you in the spotlight. Learn from those who have gone before you.

9:15pm - Moon enters Libra

10:51pm - Moon trine Saturn:
An ideal time for bringing pet projects to fruition. Express desires and emotions in a practical way.


The lunar aspects and Moon-sign changes give a quick read of the overall tone of the day. The exact time of each aspect shows when that trend "peaks" for the day. All times are given in GMT.

Subscribe to Today's Lunar Aspects in a feed reader
View tomorrow's lunar aspects
Current Planetary Positions
April 06, 2020
6:39 pm GMT
Sun: 17 Aries 25
Moon: 28 Virgo 20
Mercury: 23 Pisces 16
Venus: 02 Gemini 43
Mars: 04 Aquarius 50
Jupiter: 25 Capricorn 04
Saturn: 01 Aquarius 01
Uranus: 05 Taurus 29
Neptune: 19 Pisces 29
Pluto: 24 Capricorn 54

Current Moon Phase
April 06, 2020
6:39 pm GMT
Waxing Gibbous
Sun-Moon angle: 160° 56'
Aspect: No major aspect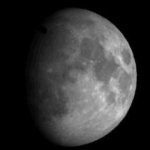 Copyright © 1997-2020 Ed Perrone. All rights reserved.