Welcome to MyAstrology.net!

MyAstrology.net offers a variety of data, forecasts, and other resources for astrologers and those who are interested in astrology.
Today's Lunar Aspects
February 24, 2020
Today is Productive

Current time: 05:49 am GMT
Times are GMT
12:38am - Moon conjunct Mercury:
Head and heart are aligned well today. Expressing emotions is easy -- but so is rationalizing the totally illogical.

6:26pm - Moon conjunct Neptune:
Feelings of idealism and devotion dominate your awareness. Sacrifice for the good of others.

7:44pm - Moon sextile Jupiter:
You may move up another rung or two on the social ladder. Schmoozing -- and knowing how to listen -- pays off.


The lunar aspects and Moon-sign changes give a quick read of the overall tone of the day. The exact time of each aspect shows when that trend "peaks" for the day. All times are given in GMT.

Subscribe to Today's Lunar Aspects in a feed reader
View tomorrow's lunar aspects
Current Planetary Positions
February 24, 2020
05:49 am GMT
Sun: 05 Pisces 05
Moon: 11 Pisces 38
Mercury: 08 Pisces 50 Rx
Venus: 18 Aries 58
Mars: 05 Capricorn 21
Jupiter: 18 Capricorn 28
Saturn: 27 Capricorn 35
Uranus: 03 Taurus 28
Neptune: 17 Pisces 54
Pluto: 24 Capricorn 06

Current Moon Phase
February 24, 2020
05:49 am GMT
Waxing Crescent
Sun-Moon angle: 06° 34'
Aspect: No major aspect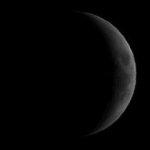 Copyright © 1997-2020 Ed Perrone. All rights reserved.